Students and faculty assembled at Sandy Creek Park on a marvelous October day to participate in kickball. Well, mostly students, with three faculty. Team captains drew a chord around the gathered circle to form teams. Unfortunately, students Teo and Pierre recognized their failure to consider Burak.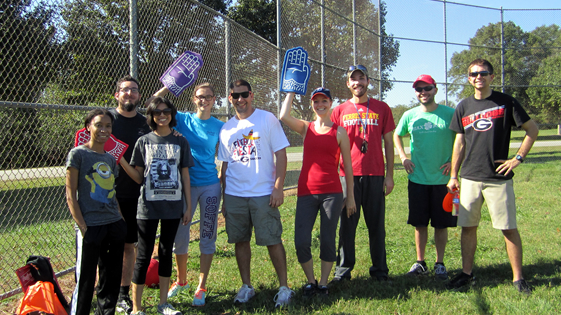 Realizing their error, visiting Team Paoletti took a defensive approach, turing three double plays, including a rundown with Les Steffe and Andrew Izsak in which Yakity Sax could be heard in the distance. Home Team Moore went to the long ball, kicking five home runs including Andrew from the faculty. Turkish star Burak had two, as did Adam of the yellow duck dynasty (without the long beard). Back-to-back home runs started a six-run bottom of the 3rd, regaining the advantage after Pierre's triple gave the visitors a 4-3 lead.
After five innings, the home side had a seemingly comfortable 12-5 advantage. Seemingly was the key word, as the visitors struck for 5 in the top of the 6th, including a triple by Keith and a three-run homer by Teo. Slightly rattled, Avi tried a crazy play for the home team: bunting. It failed, as Irma raced in to scoop up the attempt. Fortunately, Avi's defense at third base shut down the visitors in the top of the seventh.
Usually MESA kickball games have seven innings, but the visitors pleaded for more innings after not scoring in the top of the seventh. It seemed inconceivable that they wouldn't score again. But they didn't. The home side added one more run to set the 13-10 final. Losing captain Teo's victory count remains equal to the number of Philadelphia Eagles Super Bowl championships: zero.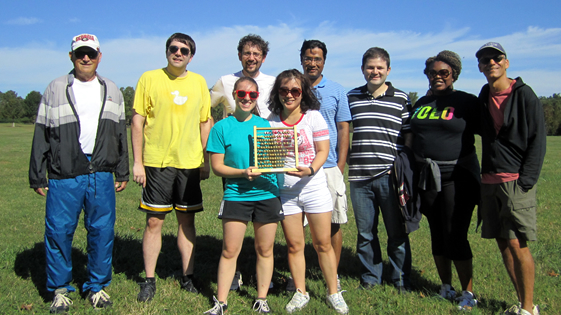 ---
Inning 1 2 3 4 5 6 7 8 9 total
Visitors 1 0 3 0 1 5 0 0 0 10
Home 1 2 6 1 2 0 1 0 x 13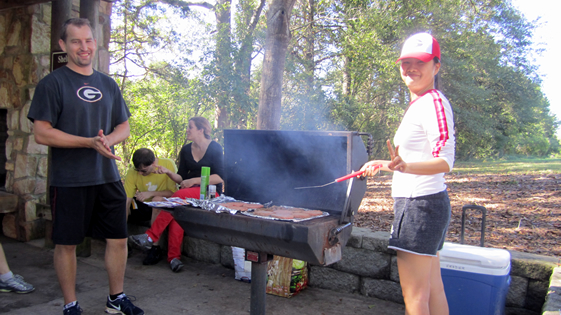 ---
Thanks to Jackie, we have almost complete play-by-play, missing only the visitors' first two innings. Each person has At-Bats, Hits, Runs, and Runs Batted In, along with notes about kicks for extra bases.
Name AB H R RBI
Tyler 5 4 2 0 2B
Julia 4 0 0 0
Keith 5 3 3 2 3B, 2B
Nick 4 1 1 1
Pierre 2 2 1 2 3B
Kirsten 4 1 1 1
Teo 4 3 1 4 HR
Angel 4 2 0 0
Irma 4 0 0 0
Cassandra 4 0 0 0
Avi 6 2 1 2
Kevin 6 3 1 1
Adam 6 4 3 4 HR, HR, 2B
Burak 5 4 2 3 HR, HR
Andrew 5 3 2 1 HR
Les S. 5 3 2 0
Eun 5 2 0 0
Kaylan 5 1 1 0
Claudette 5 3 1 2
By Adam Molnar