Please join us next Monday,
Oct. 28th at 11 am – 12 pm
in Aderhold Room 229.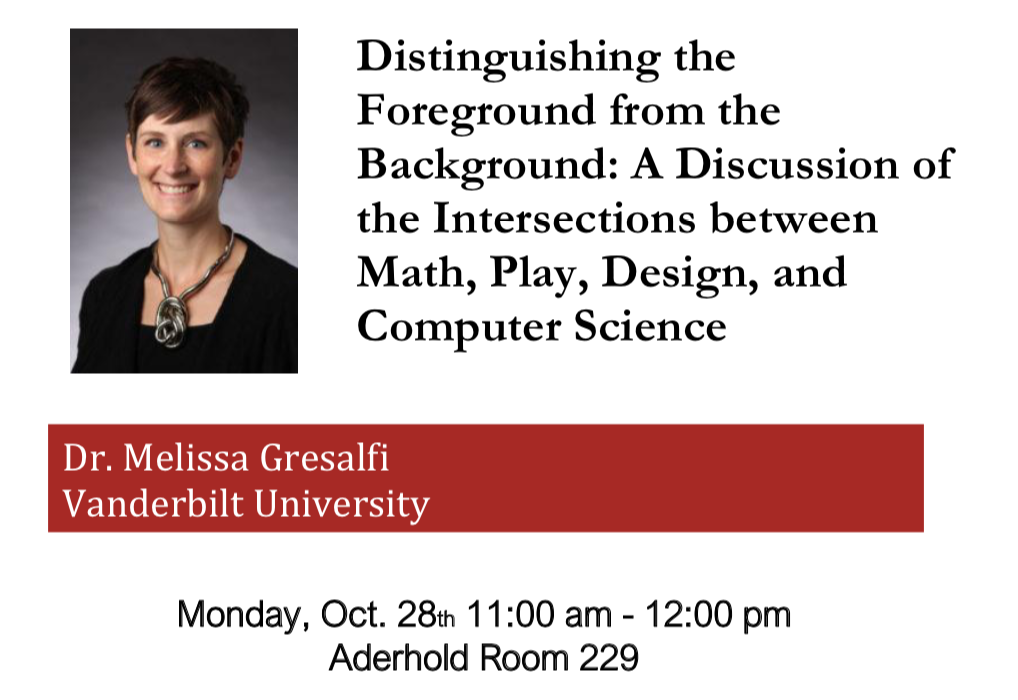 ABSTRACT
Recently there has been a lot of enthusiasm for integrating practices of Computer Science into mathematics classrooms. Although the reasons range from the hopeful to the pragmatic, we in fact know very little about how mathematical thinking might productively, or unproductively, connect with Computing. In this talk I will share findings from two rounds of design studies that sought to understand how these content areas, and their associated practices, might intersect, and ultimately, what the two fields have to learn from each other.
BIO
Melissa Gresalfi is an Associate Professor in Mathematics Education and the Learning Sciences, and Dean of the Martha Rivers Ingram Commons at Vanderbilt University. Her research considers how to design learning environments that support students' empowered engagement with mathematics. Her projects explore how tasks, social interactions, and norms and broader narratives support student learning and identity, with a current focus on textile craft, programming, and play. These projects share a commitment to understand how classroom structures and curricular designs create (or limit) opportunities for students to engage meaningfully with information. Gresalfi has served as PI or co-PI on numerous grants funded through the Gates Foundation, the Institute of Education Sciences, the MacArthur Foundation, the National Science Foundation, and the Spencer Foundation.