Colloquium Series: Dr. Samuel Otten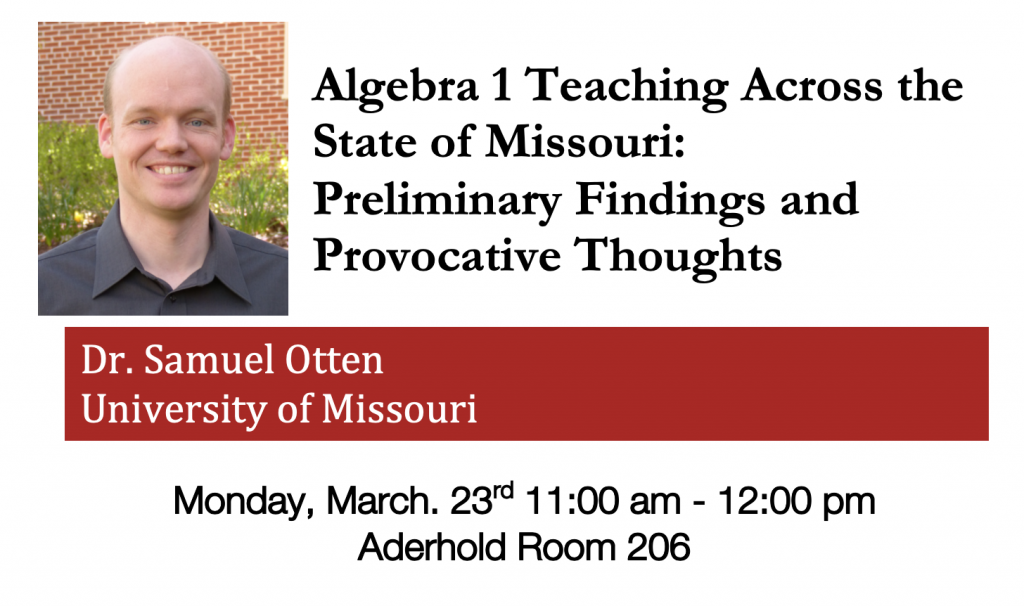 Abstract:
The Flipped Math Study team has been observing Algebra 1 instruction in a wide variety of schools across the state of Missouri. Some teachers are using instructional videos in "flipped" lessons and others are teaching in conventional face-to-face ways, but the research team is finding some profound similarities in the instructional characteristics, even when looking across teachers who are using different textbooks. In this presentation, Dr. Otten will share the patterns of algebra instruction that they have seen across a wide variety of schools. And although there are important similarities in instruction, he will also share some of the preliminary differences that they are finding with regard to students' learning as measured by a procedural-knowledge instrument and a conceptual-knowledge instrument.
Bio:
Samuel Otten is an associate professor of mathematics education at the University of Missouri. He received his Ph.D. from Michigan State University in 2012 and before that he also received a Master's degree in mathematics from MSU and a bachelor's degree from Grand Valley State University. His research centers on students' participation in mathematical practices such as attending-to-precision and reasoning-and-proving, and he has recently become interested in studying digital curriculum materials and mathematics' teachers' preferences for digital resources. He has served on the steering committee of PME-NA and received the Nadine Bezuk Excellence in Leadership and Service Award in 2019. He hosts the Math Ed Podcast (www.mathedpodcast.com).